As a Location as a Service (LaaS) platform, our satisfaction comes from enabling developers and companies to build awesome products that make the world a better place. The FoneSense app, is easily one of our most impactful use-cases to date. This app turns a user's phone into an audio billboard and rewards them when their phone rings or they receive an SMS.

FoneSense is an Irish start-up that is changing mobile advertising. Brands can reach their target consumers and turn them into brand ambassadors, while at the same time rewarding them with coupons, exclusive content, phone credit or donations to charity.
The Challenge
FoneSense needed to know the approximate location a brand message was broadcast for internal analytics and provide location specific advertisements. In the process they wanted a solution that didn't drain the consumers battery and also returned good location.
The Solution 
In their processing engine, one of the stages is adding the location to the broadcasting record. They already have the Cell ID, LAC, MNC & MCC. All they had to do was make a web service request to the Location API, and get the result.
 "It's truly a painless experience, it's really straight forward to use."
The Result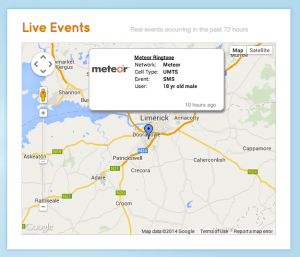 All broadcasting records now are location tagged and ready for intelligent processing by FoneSense's algorithm-rich backend. They are now able to profile and target users accurately adding a whole lot of value to their Advertisers.
"We looked at a number of different services and found the best in every way was Unwired Labs, based on results, coverage, price and performance."